What's an UnSemester?
Starting now and through the end of the year, we're welcoming everyone back to campus for a series of community-focused events, collaboration, learning, and building. The goal: to actively co-create learning experiences together while simultaneously building a renewed foundation for CCS's future.
In a nutshell, the UnSemester is a regenerative phase/season/revolution prior to launching a Semester III in the new year. Like an unconference but with web3 mechanics that extend not just to the learning but also to building the DAO. We'll emphasize belonging, individual agency, permissionless contribution, bottom-up learning, and the resilience and sustainability of our community.
In this period of relative quiet in the crypto space, what better time to come together, learn, think deeply, and build outside the hype-cycle? Join us back on campus to investigate the liberal arts for crypto and design hopeful futures.
Emergent Learning
Crypto, Culture, & Society is learning DAO first, and one that thrives when it brings people together and nurtures connection.  The first major goal of the UnSemester is to cultivate rich, convivial learning. We aim to provide a course of study that goes beyond just the financial elements of crypto, exploring the entire liberal arts landscape, with particular emphasis on learning together how to better build our own community.
Curated Events
As in past semesters, the core contributors will work with educators throughout the UnSemester to create unique learning experiences for the community:
Workshops: Synchronous one-off discussions, lectures, panels, firesides, etc.

Seminars: Deeper dive learning groups over extended periods of time with sync and/or async recurring events.
While curated events will form a baseline of activity, the goal is for these to ignite more community-driven & emergent learning experiences.
Each week, we'll leverage the bottom-up governance functionality of JokeDAO and open the CCS docket to everyone in the community.  In this next iteration of our ongoing decentralized learning experiments, community members will vote on, nominate, submit, host, & facilitate a diverse array of experiences.  These might be like the workshops & seminars described above or take any other creative/pedagogical form the community can imagine.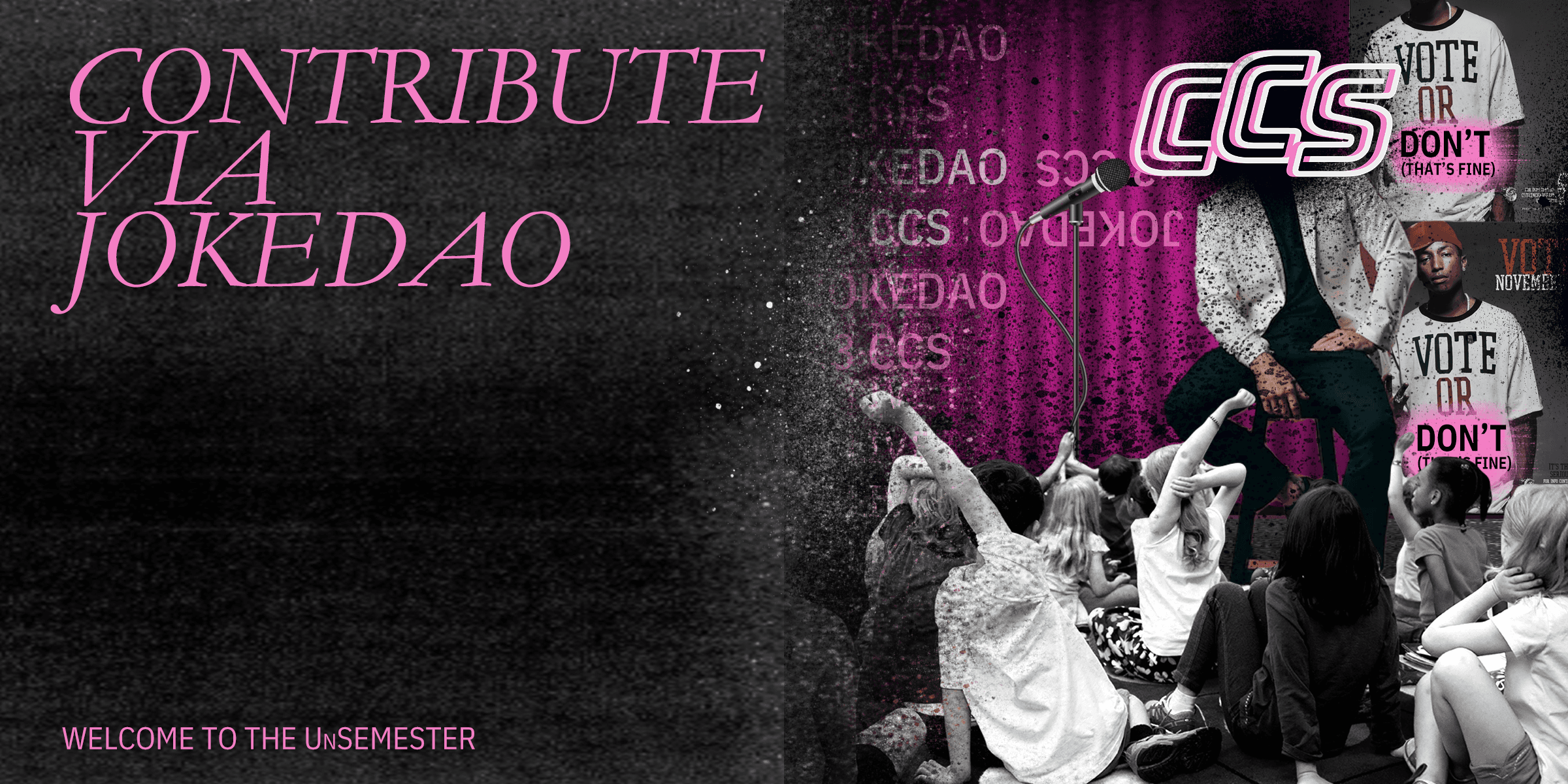 Building Foundation
The second major goal of the UnSemester is to build a resilient DAO equipped to thrive long-term.  We hope to forge bonds between the multiple constituencies in our community and let the emergent synthesis determine the direction of our future.  Particularly important are providing clear paths to membership & contribution, along with giving members the agency to make CCS their own.  Below are some plans currently under discussion, but we also want you to come bring your voice and ideas to the table as well!
Paths to Membership
Today we drop 100 $LEARN to all Semester II contributors, bringing all membership and voting under one token. Further, we hope a major topic in UnSemester discussions will be both clarifying and redefining what CCS membership means and how it's attained.
If you didn't get or don't own any $LEARN, but you've participated in or applied to CCS in the past (in any capacity) please fill out this form and we'll airdrop to you too!  You can also nominate someone for membership here!
If you've never participated in CCS but want to join us, we're still accepting new learners for the UnSemester! Enrollment is open and rolling, meaning that everyone is welcome. Just fill out the UnSemester application and collect this Mirror edition that doubles as an UnSemester pass which can be used for DAO membership eligibility. As always, scholarships are available: if you plan to apply for a scholarship instead of collecting the Mirror edition, you can note that in the application. If you have participated in CCS in the past, access to UnSemester is free! But you can also collect this edition just to support CCS, or contribute directly to unsemester.eth.
Paths to Contribution
Throughout the UnSemester, we'll be incentivizing smaller contributions through $LEARN to facilitate learning experiences, complete bounties, found or join societies, or just generally enhance the community.  We'll iterate and experiment fluidly around the mechanics of contribution and compensation.
We hope to apply the $LEARN token to a range of applications throughout the DAO:
Membership - belonging to CCS, access to semesters, and contributing to the community

Governance - DAO-wide voting and proposal submission

Incentives - fluid sharing of tokens, bounties, rewards, compensation, etc…

Experiments - UnSemester mechanics like submitting and signing-up for learning experiences in JokeDAO or proposing to found a society and using Metropolis manage a discretionary budget
$LEARN is not a financial token. Higher levels of contribution within the DAO (essentially working for CCS) can be rewarded with $ETH or $USDC.
But we need the community to co-determine what it means to contribute to CCS, both mechanically and philosophically.   Additionally, we need deep thinking and dedicated initiatives to investigate $LEARN and its potential utility.
Introducing "Societies"
Starting today, CCS members will be able to come together to found a "Society," which is a permanent or temporary initiative within the DAO (utilizing the nested multi-sig "pods" functionality of Metropolis).  This might be a project, an ongoing institution, a team/pod, a learning group, a sub-DAO, or some other organization needing resources.
Any holder of 100 $LEARN can propose a "society," request tokens, hold a DAO vote, and get started building.  Once established, "societies" are autonomous and free to pursue their own projects. We see this as a new coordination mechanism to build educational entities, where every stakeholder truly has the power to design the experience together as owners.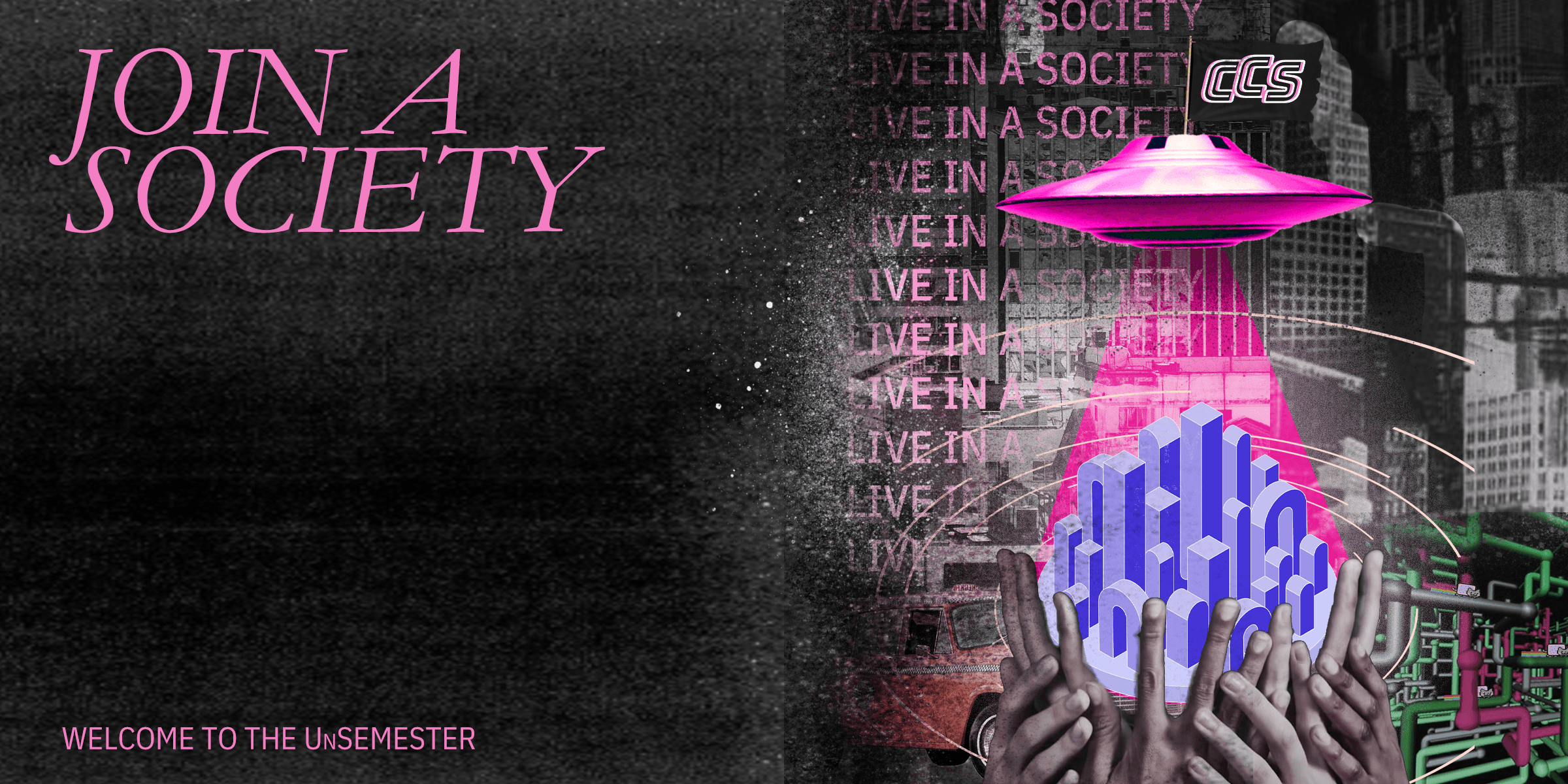 Co-Creating Semester III
We'll also be using the UnSemester to build and plan toward a full-blown semester slated to kick-off late-Q1/early-Q2 2023, hopefully with a substantial IRL component.
What hasn't changed at CCS
We still resonate deeply with the vision outlined in the first semester mirror post, so whatever formats we explore we want to continue:
Exploring the "so what?" of crypto: the anthropological, political, and sociological implications: not only educating the newcomers to the space, but also pushing the thinking and scholarship forward

Making space for people who care about web3's broader societal impact: to ask questions, voice thoughts, provoke, challenge, and wade through tough questions together

Inspiring others to use web3 tools to help solve some of the greatest coordination problems of our time

Pushing the web3 space to be as inclusive and accessible as possible
We hope you resonate with these goals. If you do, we need you; from OGs to brand new to CCS. We need your unique skills, abilities, energy, passion, and intellect if we're to carry the torch of this mission forward. We hope you'll join us as we continue crafting our way forward as a learning community.
Come LEARN with us. Come BUILD with us.
+++
Crypto, Culture, & Society (CCS) is a learning DAO focused on building liberal arts for crypto. Founded in 2021, CCS has grown into a full-stack, periodic educational initiative hosting workshops, electives, and other programming for its members. The CCS community includes technologists, creators, community builders, educators, and lifelong learners. You can keep up with CCS on Twitter, Substack, and via the Society Journal.  You can also support CCS directly at unsemester.eth.
This post was a collaborative effort! Special thanks toBen for the art and graphic design, to Aaron A. and Michelle for editorial support, and finally to Aaron L, Chris, Naan, Nick, & Sergio for operational & conceptual aid.